EDPMA represents the business of emergency medicine.
As a trade association, our members represent physician groups of all sizes along with companies providing essential products and services for operating emergency departments including revenue cycle management, billing, coding, scribe, credentialing, practice management, software, legal services, and more.
EDPMA provides unmatched access to decision makers, advocates for fair policies that prioritize high-quality patient care, educates on best practices, and keeps our members up to date on issues affecting emergency department management.
Our partners make it possible.
EDPMA considers our sponsors, exhibitors, and advertisers our partners and allies. We believe we are stronger together and look forward to building a lasting relationship with your company to support the advancement of emergency department business.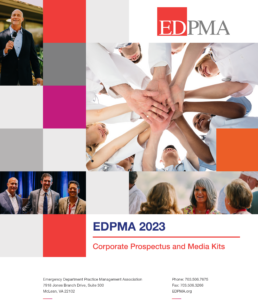 See our portfolio of sponsor, advertising and exhibiting opportunities here, and a sneak peek into a few opportunities
Digital Advertising
Elevate your presence in the business of emergency medicine by advertising in EDPMA's digital products - our ED NewsLeader weekly newsletter, our monthly e-newsletter sent to members and non-members, edpma.org and in digital retargeting campaigns.  Click here to view. 
Board Partner Sponsorship
In an exclusive reception at Solutions Summit, the RCM Workshop or a virtual event, build relationships with EDPMA leaders.
Leader Focus Groups
Gain insights into the marketplace by meeting with physician groups, RCM, and supporting organization leaders. Learn what keeps your clients and prospects up at night and how to help resolve their concerns.
Year-Round Corporate Partnerships
Highlight your competitive edge by partnering with us and benefit from aligning with EDPMA's brand 24/7/365. These opportunities give you the widest reach to highlight your thought leadership, brand, services, and company.
 EDPMA Solutions Summit
The Must-Attend Event for the Business of Emergency Medicine
The Solutions Summit is all about the businesses that make emergency departments run. As a Solutions Summit partner, you network with C-Suite and other high-level executives to identify business opportunities and make important industry connections.
Summit Benefits:
Connect directly with decision-makers in the emergency medicine specialty
Promote your brand, products, and services directly to users and buyers
Reach your target audience in a cost-effective way
Position your company as an industry leader
Stand out from your competition
Meet with clients and prospects
On average, 30% of attendees at trade shows are management personnel including physician leaders. At Solutions Summit, it's OVER 80%!
EDUCATIONAL OPPORTUNITIES
EDPMA educates, advocates, and equips our members with the tools to be fierce advocates. Consider these opportunities to align your brand with our educational events.
In-Person RCM Workshop
This intimate in-person workshop brings together 50+ business and operations managers, and senior coders for laser-focused education on billing and coding topics. Attendees arrive in the morning, attend sessions in the afternoon and the following morning and then return home. This workshop will likely occur in December.
Virtual Workshop
EDPMA will offer afternoon virtual workshops with a hyper-focus on a timely topic important to the EDPMA membership. Contact Joanne if interested in being on the shortlist when a virtual workshop comes together.
Webinar Plus
You drive the topic, session title, learning objectives and faculty. Webinars must receive prior approval.
Webinar
Our virtual events are delivered live and on-demand and are centered around best practices and just-in-time information on topics such as Surprise Medical Billing, the No Surprises Act, and legislative topics.
Vendor Showcase
An online, highly specific marketplace, our Vendor Showcase is a great way to keep your company top-of-mind of the specialty.
Contact Joanne Tanner to discuss a package that moves the needle on your brand, marketing and sales goals.