Join us in Las Vegas for the Solutions Summit 2023, a one-of-a-kind education and networking conference.
The 2023 Solutions Summit is the most comprehensive conference on the business of emergency medicine. It will cover a range of topics you care about, including the NSA, Medicaid, revenue cycle management, technology and data analytics, and much more.
2023 EDPMA Solutions Summit
April 17-20, 2023
Las Vegas, NV at the Bellagio Hotel & Casino
Thursday's Programming Theme: Threats to the Economic Viability of Healthcare: How EM Thrives in a Challenging Environment
Registration
Registration for the Solutions Summit is open to members and non-members and includes 5 meals and 2 receptions. Discounts are available for those attending in groups of 4 or more, and those attending a half-day or one day only.
NOTE: If you plan on inputting multiple people on your team, be aware that the registration site holds on to cookies in your browser. It is suggested to open each registration option in an incognito window within your internet browser. You can access an incognito window in your browser by right-clicking and selecting "Open in incognito window".
Agenda
EDPMA's Solutions Summit has the perfect blend of educational content and networking opportunities. Find the agenda for the 2023 Solutions Summit below and join us in Las Vegas at the Bellagio Hotel and Casino.
Sponsorship, Exhibiting and Advertising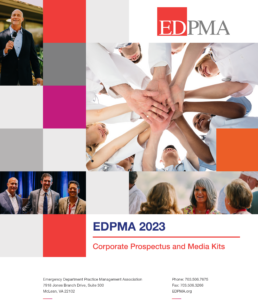 Contact Joanne Tanner or 301.351.8722 for sponsorship, exhibiting and advertising opportunities. To view our complete sponsorship and advertising opportunities, click here.
Solutions Summit Exhibitors
Access One
Allia Group
American Board of Physician Specialists
American College of Emergency Physicians (ACEP)
athenahealth, Inc.
Aya Locums
Brault
Capio
Cascade365 Liquidity Solutions
Change Healthcare
ConsensioHealth
d2i
Data Media Associates, LLC
Data-Core Systems, Inc.
DeliverHealth
Edelberg + Associates
EDPMA
EDPMA PAC
Emergency Care Partners (ECP)
EmOpti, Inc.
EPOWERdoc, Inc.
Fulcrum Strategies
Gallagher Insurance, Risk Management & Consulting
GoRev
Gryphon Healthcare
HealthMark Group
ImagineSoftware
LightSpeed Technology Group/ VeriDOCS
LogixHealth
MaxRTE
Medlytix, LLC
Naylor
NYM Health
ONQ
Pearson Ravitz, LLC
Pendrick Healthcare Partners, LLC
Pettigrew Medical Business Services
PHIMED Technologies
Phoenix Coding and Consulting
Phycon, Inc.
Premium Asset Recovery Corporation
ProScribe
R1 RCM
Resolv Healthcare, a Harris Revenue Cycle Business
Reventics
Sycamore Independent Physicians
/S/Y/N/E/R/G/I/S/T/I/C/ SYSTEMS
The Dental Box
The Solutions Group
Ventra Health
Wakefield & Associates
ZOLL Data Systems
Zotec Partners