EDPMA, a trade association, is governed under its bylaws by an elected Board of Directors. An important tenet of EDPMA's governance structure is that every Board member receives one vote, irrespective of the size or member category of the organization they represent.
EDPMA Committees do the heavy lifting for the organization and focus on the legislative, regulatory, quality, coding, documentation and practice management for the organization and the emergency medicine specialty. Learn more about our committees
here
.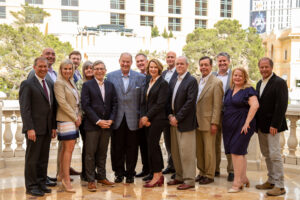 2022-2023 Board of Directors
Left to Right:
Randy Pilgrim, MD, FACEP* | SCP Health

Courtney M. Franco | ImagineSoftware

Patrick Velliky | Envision Healthcare Corporation

Jackie Willett* – Treasurer | R1 RCM

Alan Eisman | d2i

Ed Gaines, JD* | Zotec Partners

William Freudenthal, MD, FACEP* – Chair Elect | Vituity

Andrea Brault, MD, MMM, FACEP* – Chair | Brault

Don H. Powell, DO, FACEP* – Immediate Past Chair | Emergency Care Specialists & Medical Management Specialists

Paul Hudson, MBA, MHA, FACHE | Status Health Partners

Jeff Bettinger, MD, FACEP* | BSA Healthcare

Mike Osmundson, MD, MBA, FACEP | US Acute Care Solutions

Juli Forde-Smith* – Vice Chair | Rev4ward, LLC

Dave Ernst, MD, FACEP | EPOWERdoc, Inc.
Not Pictured
Aron Goldfeld, JD* | TEAMHealth, Inc.

Shanna Howe* | Ventra Health
Andy Sama, MD, FACEP | Emergency Care Partners
Andrea Halpern-Bryan | CIPROMS
Nathan Ruch, MD, FACEP | Sound Physicians
* Indicates member of the Executive Committee