Join EDPMA and your colleagues in Las Vegas, Nevada for an incredible 2023 Solutions Summit. Hosted at the Bellagio Hotel & Casino, attendees of the Summit will get access to a one-of-a-kind education and networking conference.
EDPMA is the nation's ONLY professional physician trade association dedicated to the business of emergency medicine. It is EDPMA's goal to focus on the delivery of a high-quality conference that allows the industry to further provide cost-effective care in the emergency department. At the 2023 Solutions Summit, we will cover trending topics in emergency medicine, including recent federal changes that directly affect the way emergency departments operate.
2023 Solutions Summit
April 17-20, 2023
Las Vegas, NV at the Bellagio Hotel & Casino
Registration
Registration for the 2023 Solutions Summit is open to both members and non-members. Conference registration includes 5 meals, 2 receptions, access to valuable educational content, and many opportunities to network with colleagues and exhibiting organizations.
Discounts are available for those attending in groups of 4 or more, and those attending a half-day or one day only.
Agenda
EDPMA's Solutions Summit has the perfect blend of educational content and networking opportunities. Find the agenda for the 2023 Solutions Summit below and join us in Las Vegas at the Bellagio Hotel and Casino.
Sponsorship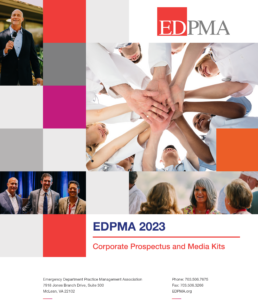 Browse our opportunities to sponsor and exhibit at the Solutions Summit and beyond. Our Corporate Prospectus and Media Kits have a variety of unique opportunities to get your business noticed by your bottom line.
If you are interested in opportunities for sponsorship, partnership, or exhibiting please email Joanne Tanner or call 301.351.8722.
To view our complete sponsorship and advertising opportunities, click here.